Innovative surface mounted downlight---POYO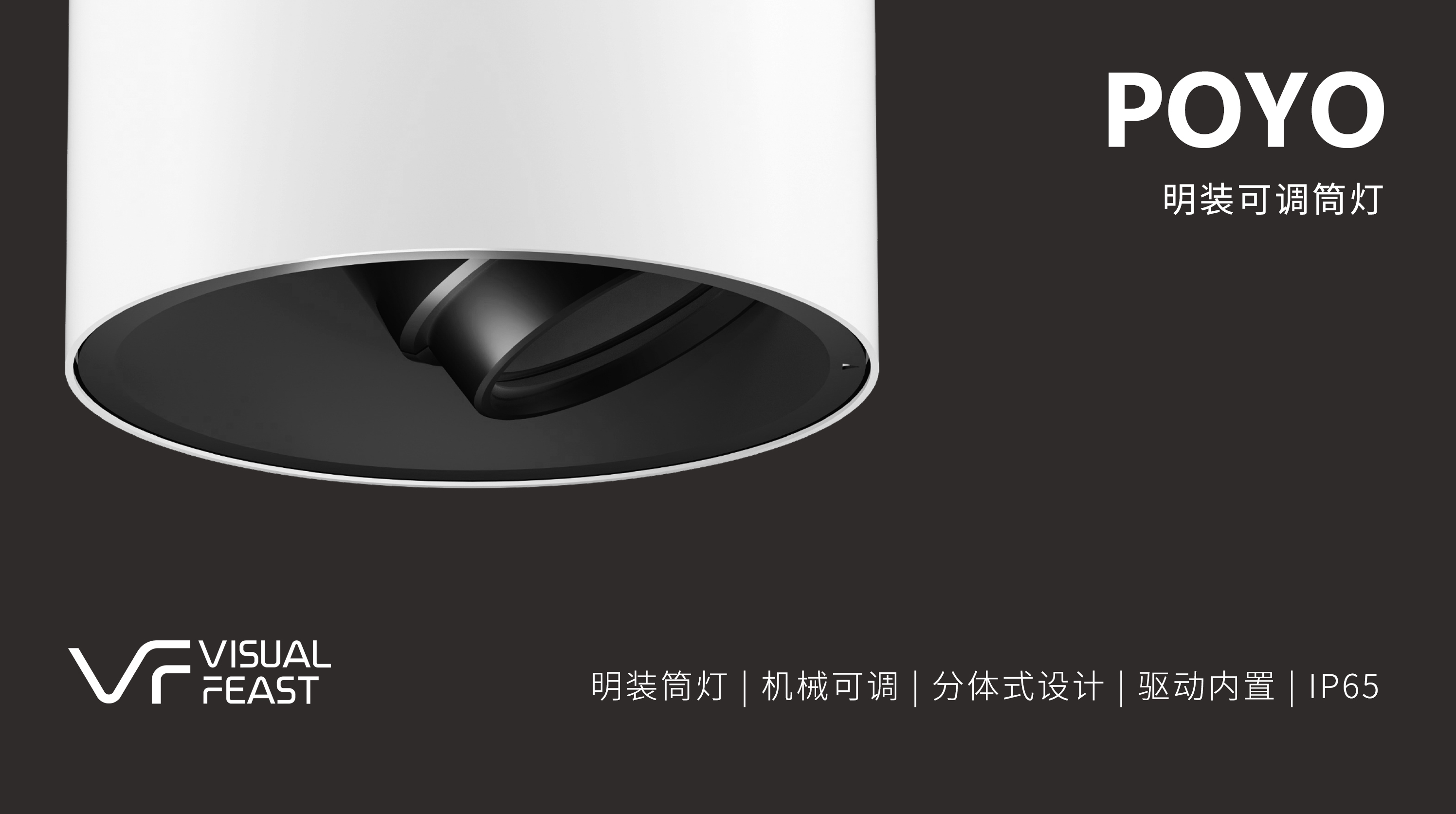 Poyo is a natural and pure existence like a jade,
Present the charm of space light and shadow in the simplest color language.
A variety of specifications,
Match space requirements of different scales
4 kinds fixing mode, 5W-100W power range
10D-50D beam angle optional
Can match the ceiling height from 3-20m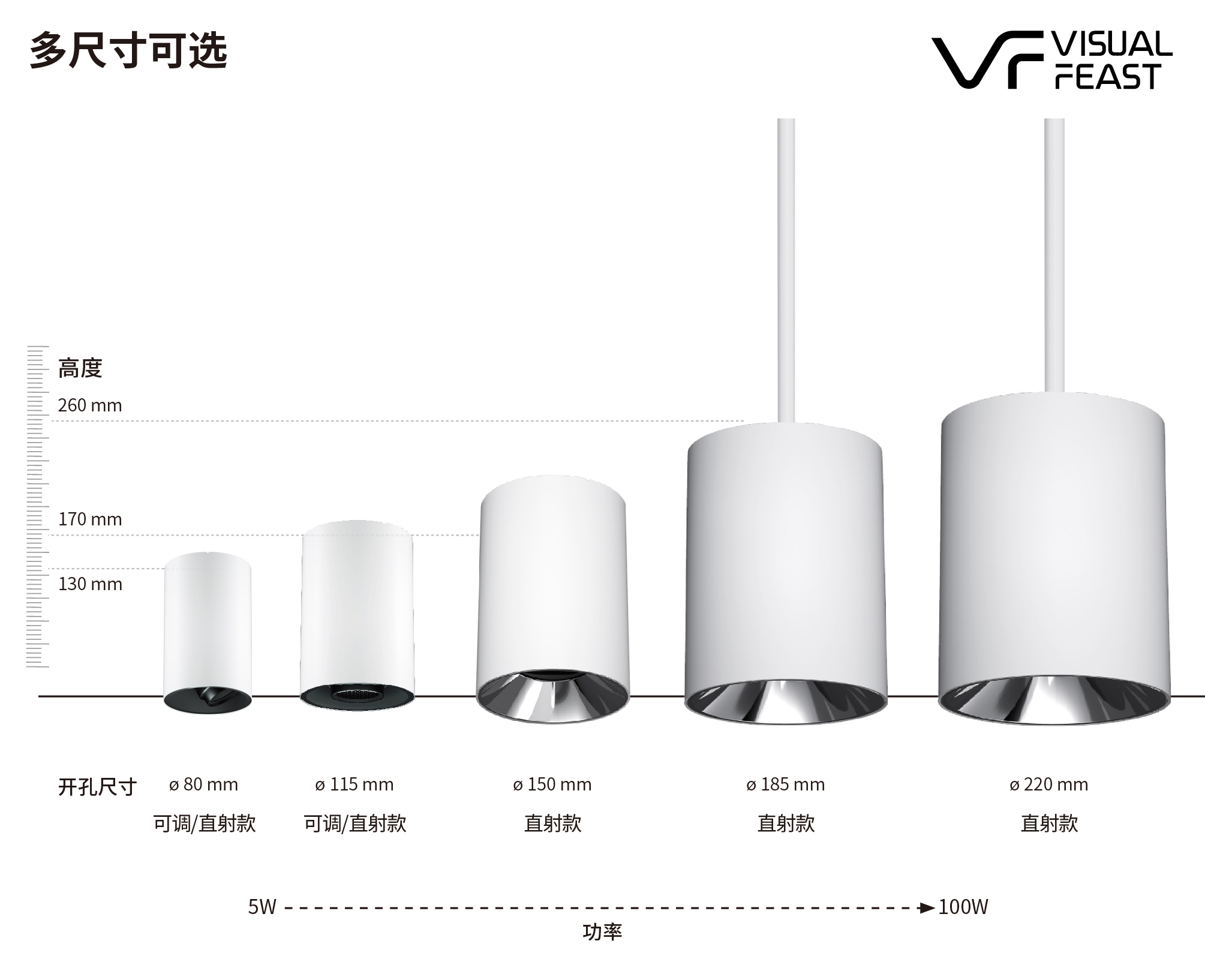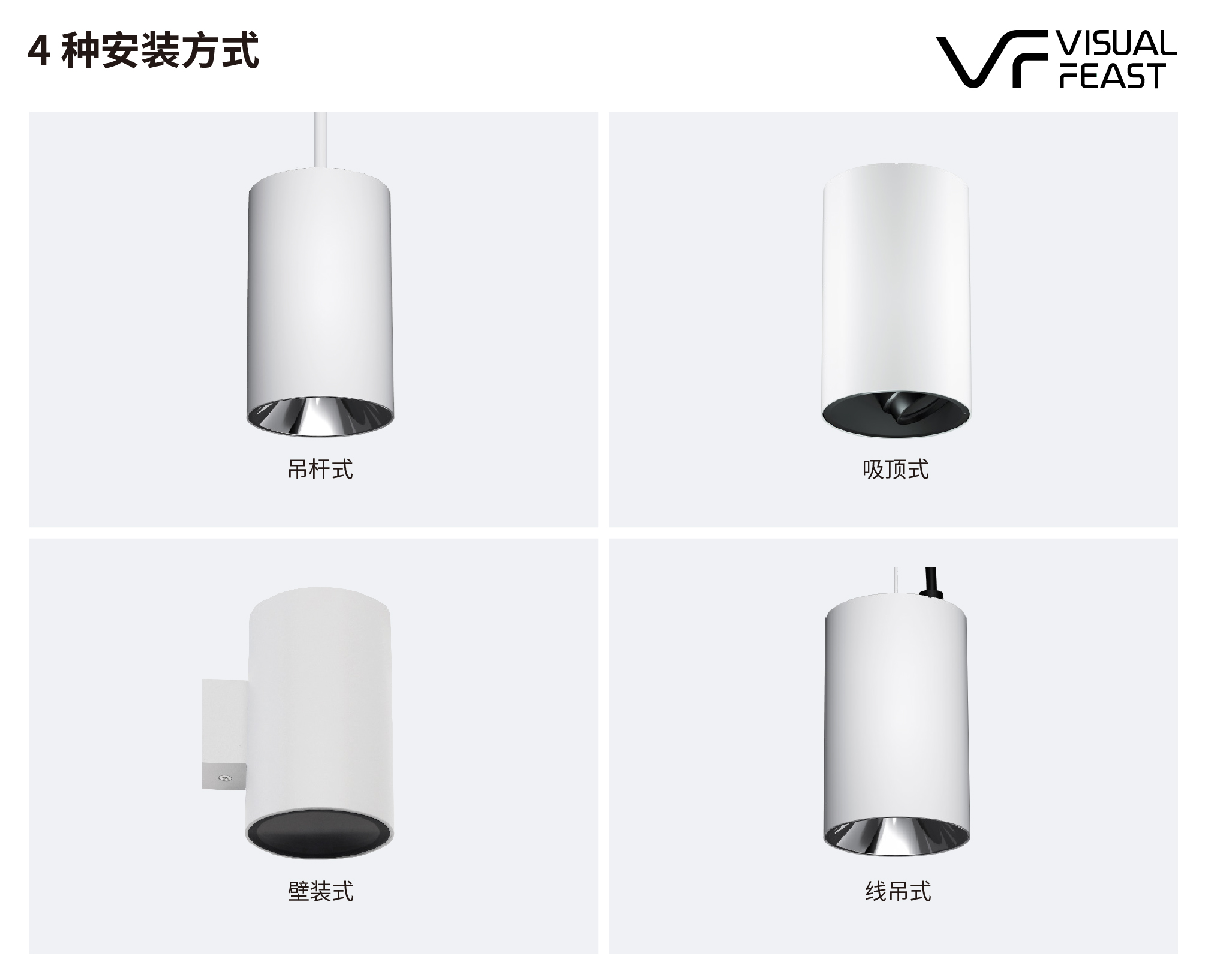 POYO is the surface mounted downlights which can be mounted on the ceiling or wall, the whole series including Mini, Medium, and large series, and power ranges from 5W to 100W according to 5 different dimensions. It can keep the uniformity and perfection of the whole architecture decoration with the graceful and light design of the luminaire.
High luminous efficiency with high comfort
High power series product with shielding angle 40D, UGR<17.1
Highest luminous efficiency can reach 97lm/w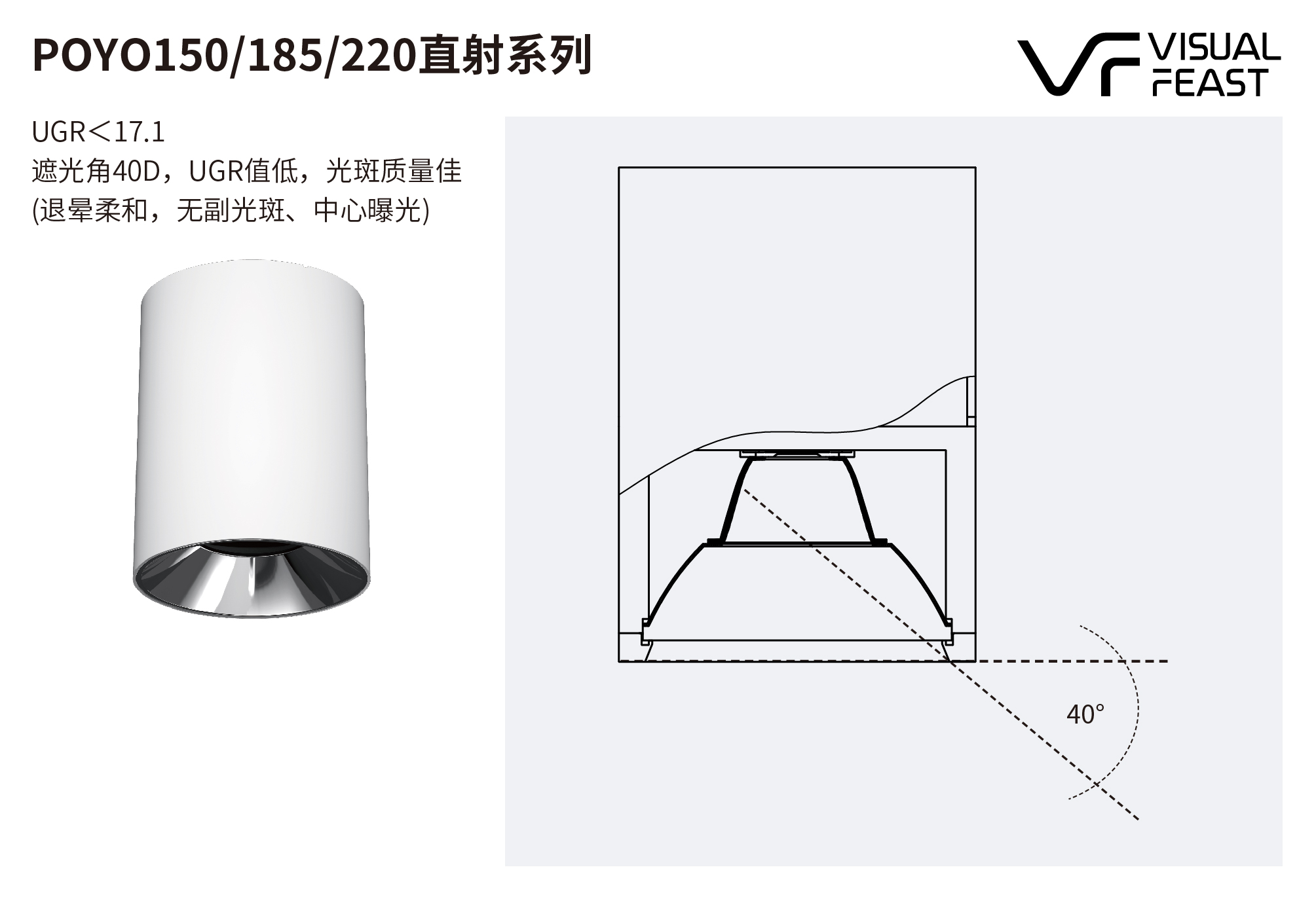 The high-power POYO series surface mounted downlight can be applied in such public space as airport, high-speed railway station, and exhibition or convention center. Comparing to the conventional high-power surface mounted downlight with high glare, VF POYO downlight is excellent in anti-glare performance with 40D shielding angle and accurate optical design, not only can meet the requirement of high lumen needs in the large-scale space, but also greatly improve the visual comfort.
Deep anti-glare product UGR<10.7
Highest luminous efficiency can reach 86.8lm/w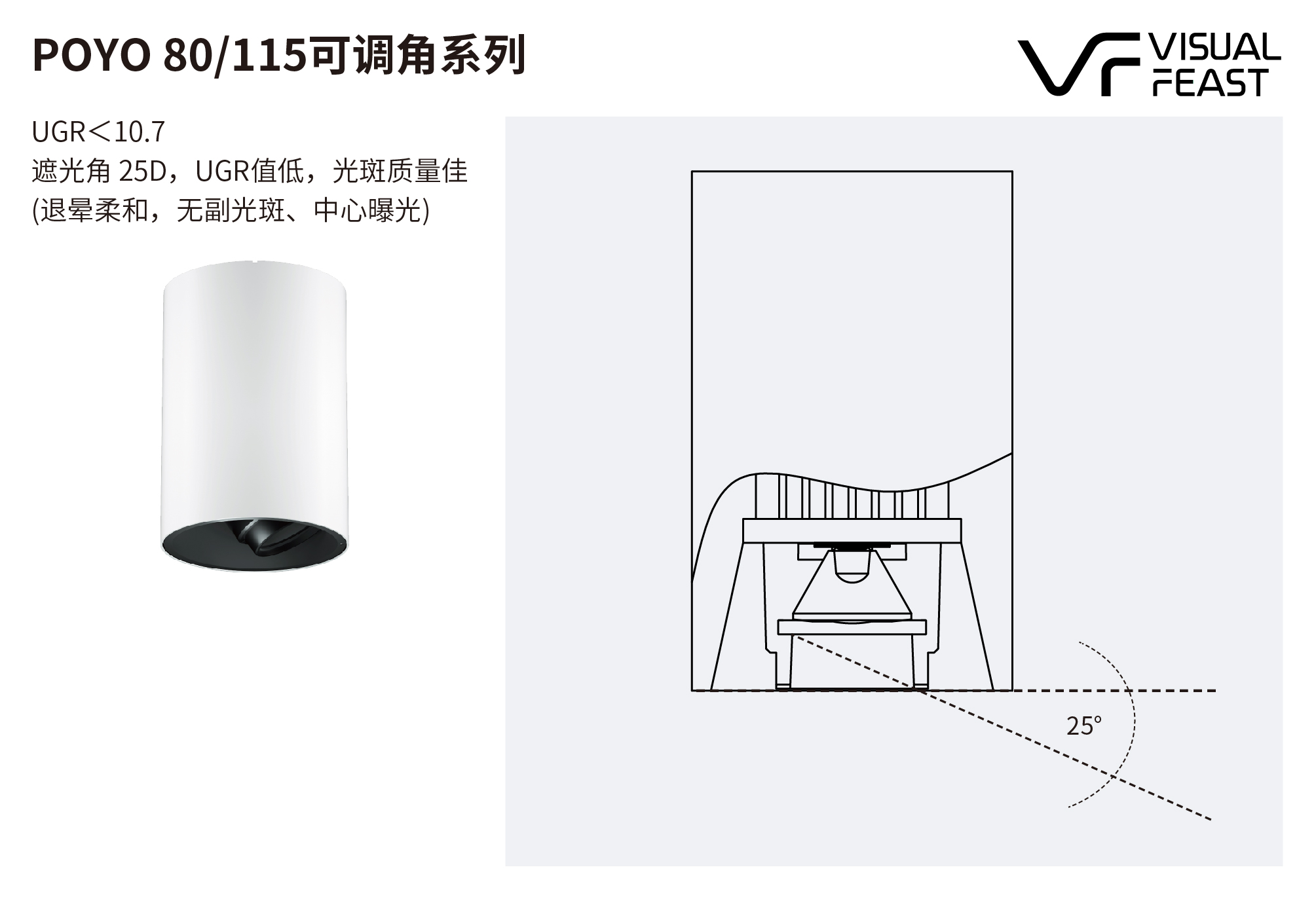 Comparing to other brand luminaires with UGR<19 and shielding angle 30D,
VF POYO80/115 adjustable series has below advantages:
-advanced optical design with good control of the glare and UGR rate is only 10.7
-3 anti-glare accessories are optional and can be replaced by hand to offer a comfortable lighting environment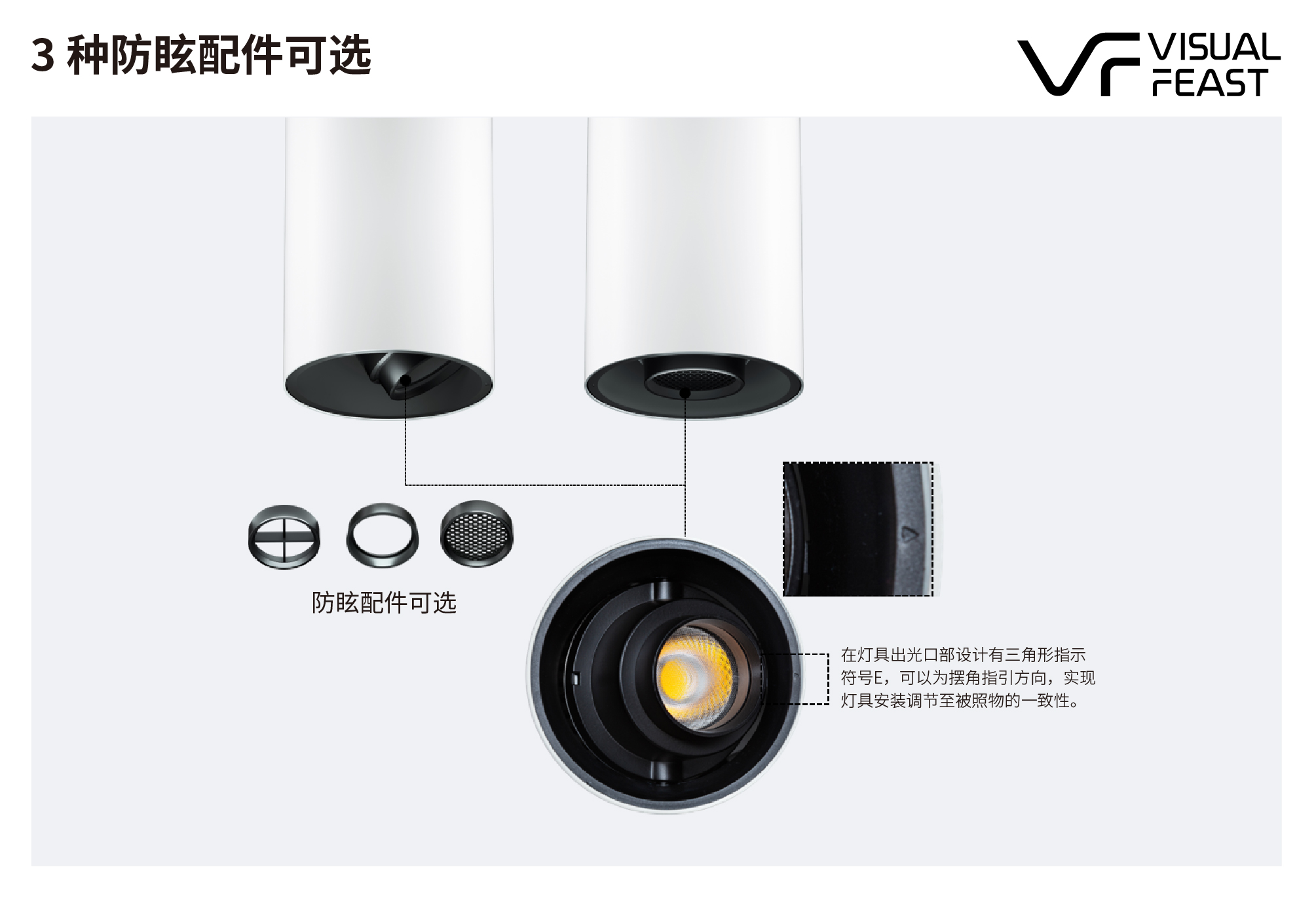 Surface mounted downlight but tiltable,
Horizontal 350°, vertical 30° adjustable
The common surface-mounted downlight in the market are non-adjustable, but POYO80 and POYO115 series are adjustable with vertical 30°and horizontal 350° design, which makes precise lighting possible in outdoor and semi-outdoor spaces.
04
Design of concealed driver
Split design and free workers' hands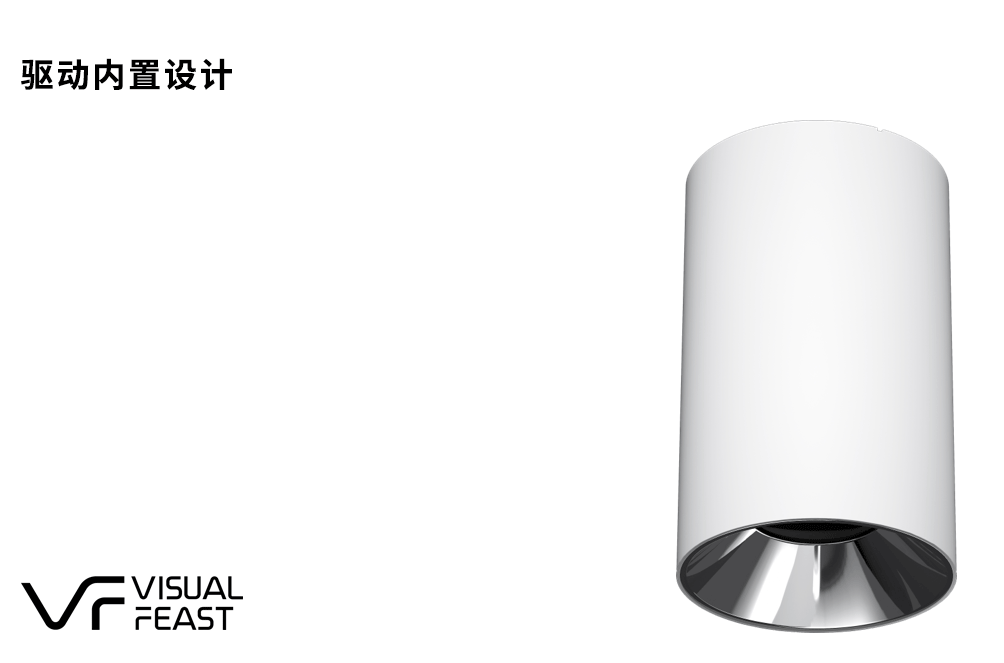 Patent No:202021380169.1;202020207082.8
Due to the built-in driver design, no need to consider special space for the driver and leave the ceiling simple and clean. The large size luminaire usually is not so convenient to install as to the weight, but for POYO it is another case, thanks to the split design, after fixing the driver and bracket onto the ceiling, then fastening the body to the ceiling, which makes the installation much more convenient and efficient.
IP65 is suitable for humid environment indoor and outoor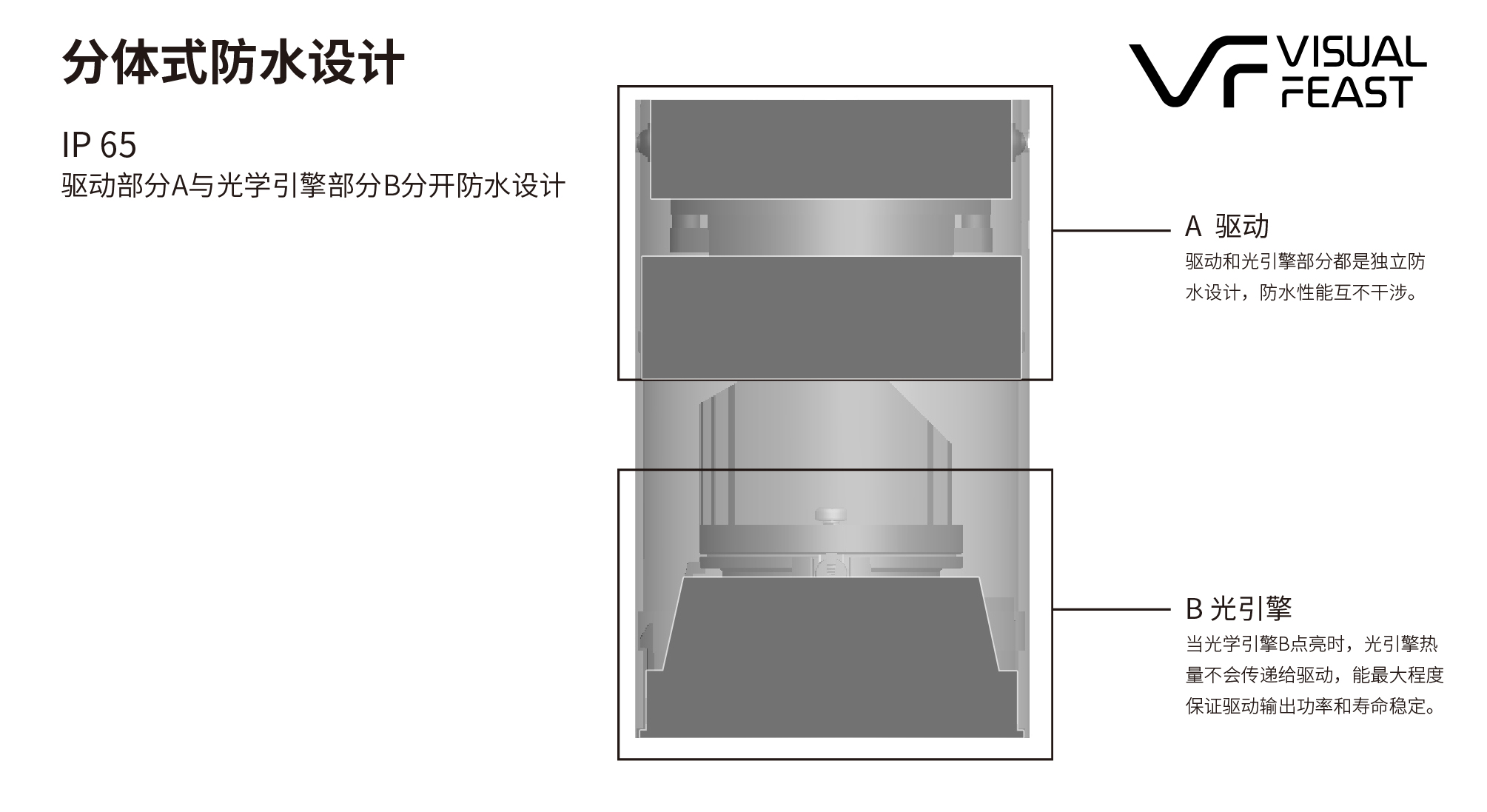 Patent No: 202021380169.1;202020207082.8
The driver and led engine are split in design and all can be IP65, which makes the POYO whole series can be applied to airport, high-speed railway station, outdoor canopy, exhibition and convention center.
Can be applied to multiple outdoor and semi-outdoor space
As high-speed railway station, airport, convention and exhibition center.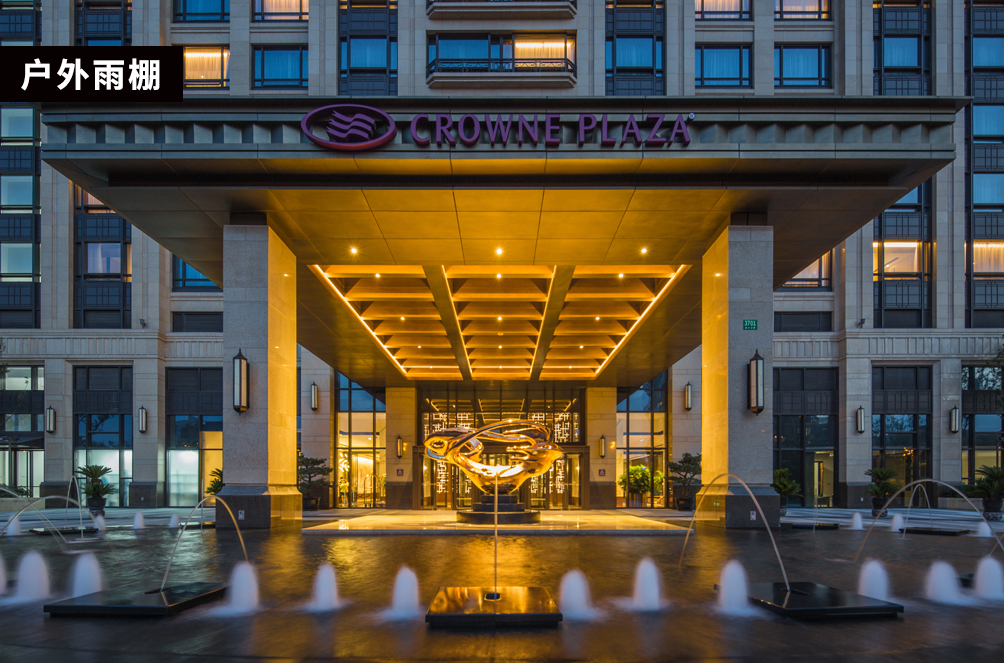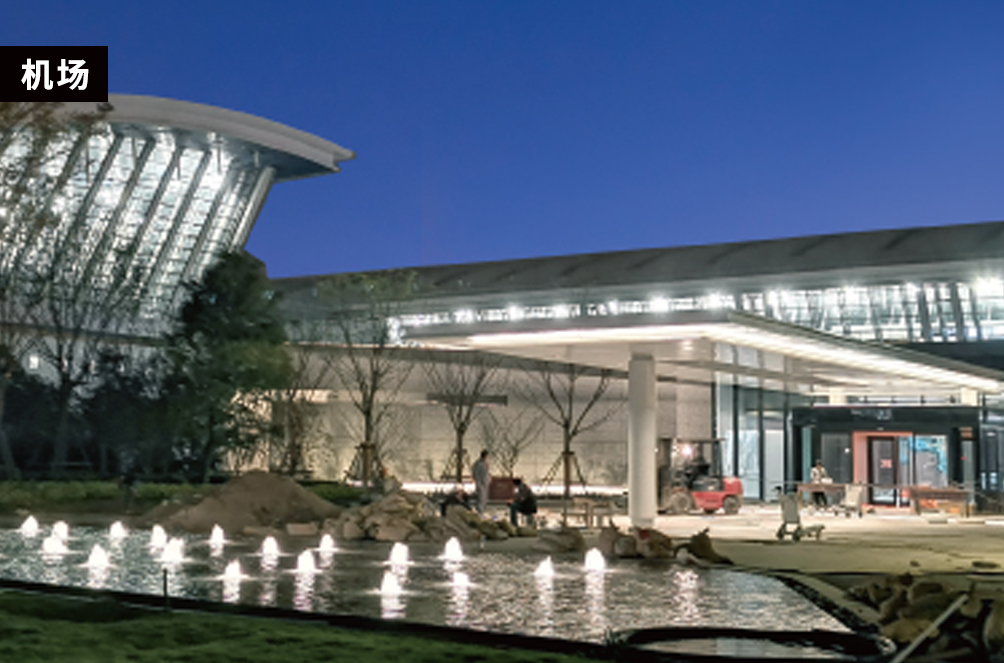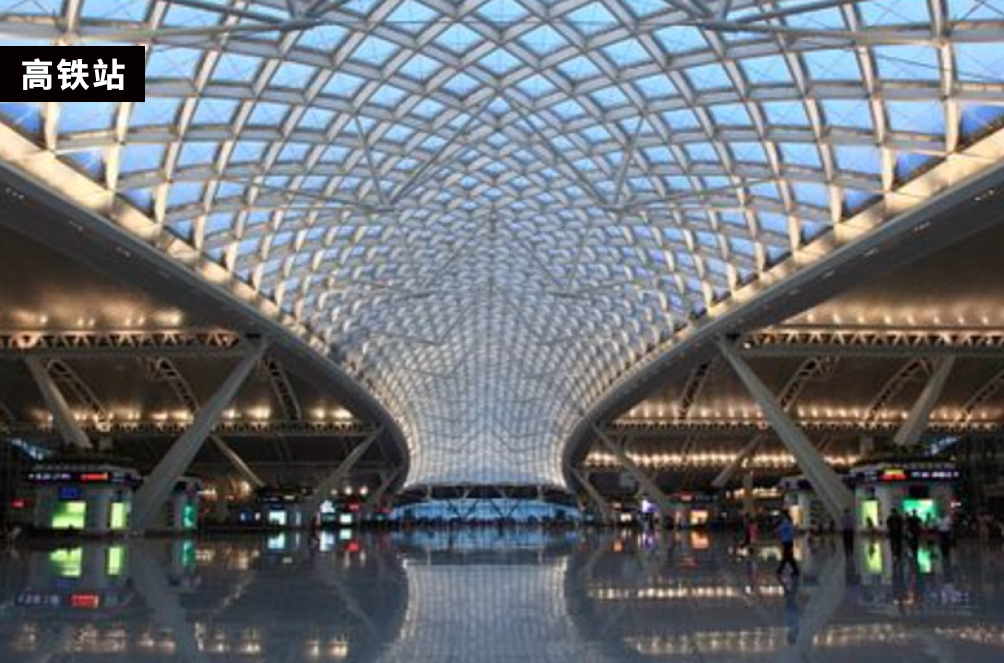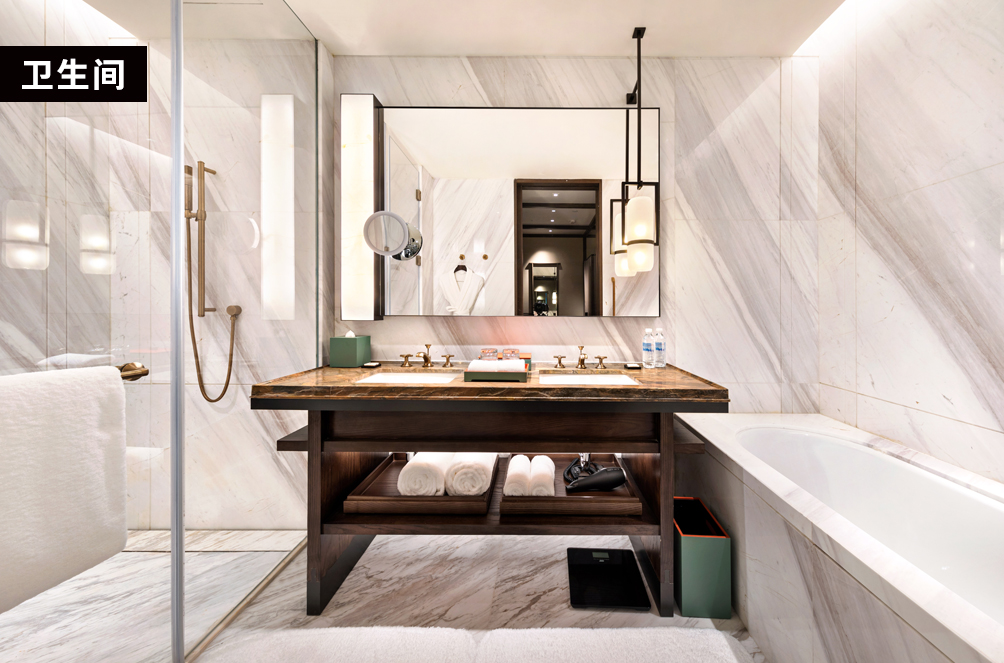 POYO integrates with following variant space and a comfortable atmosphere of light and shadow is created with the excellent anti-glare design and super optical design.
Indoor humid space like shower room, washroom etc.
Semi-outdoor space may be splashed by rainwater like outdoor canopy.
Seasonal humid space like corridor, aisle, courtyard, gymnasium, etc.
Large scale public space with special requirements, such as airport waiting hall, security hall, high-speed railway station waiting hall, conference and exhibition center, etc.
Bare ceiling, like industrialization style, or renovation projects with restrictions on ceilings, etc.
Project case of POYO application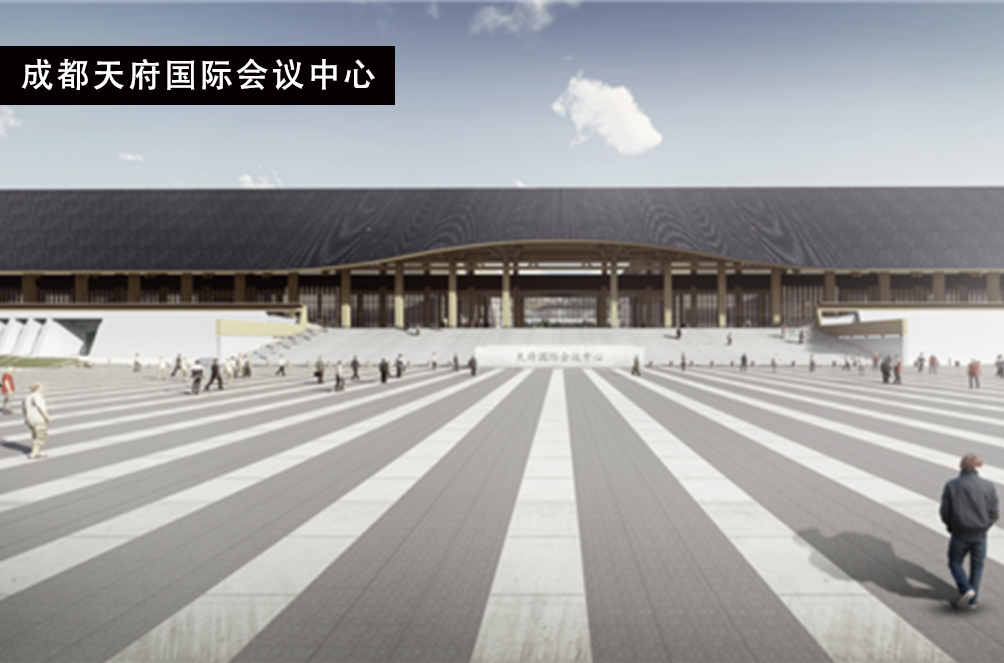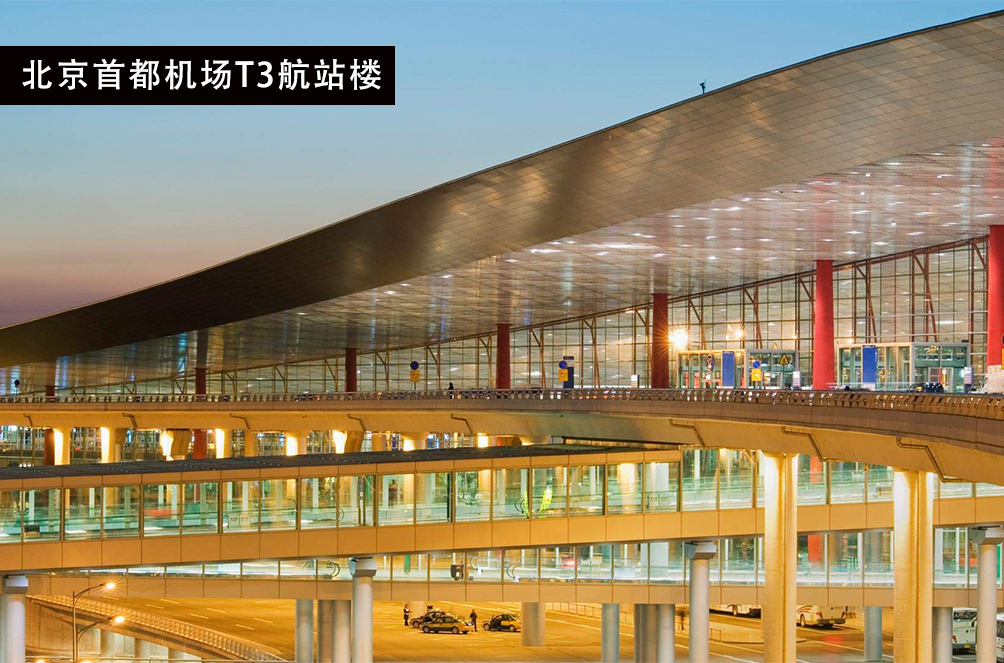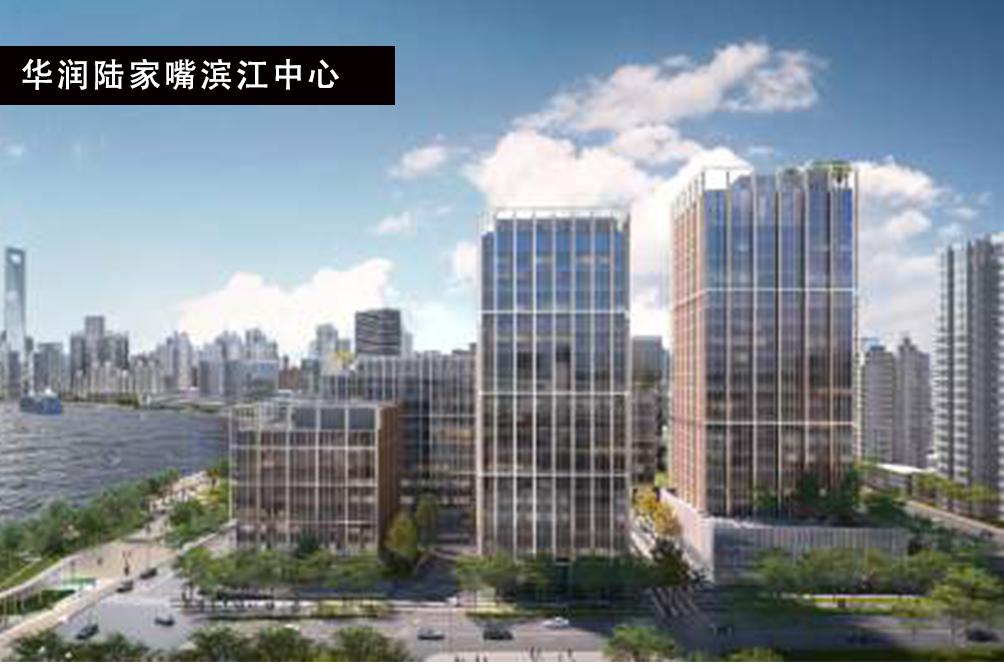 Light is the soul of architectural art. VF is committed to extending the high-quality indoor lighting to the outdoor space, constructing the overall level and artistic expression of the architectural space.
Adhering to the mission of "using light, improving the living environment, and adding value to users", VF continues to explore the field of lighting to meet people's various needs for different lighting environments. The birth of VF professional outdoor lighting series is a new milestone. VF will continue to reward customers with high-quality products and services, so that more people can experience the brand strength of VF and the ultimate pursuit the best combination between light and shadow.